Note: Click here if you are looking for the 2011 Parade route and Firework information.
You are invited to walk with DoNight and the Muscatine River Monster in the Fourth of July Parade!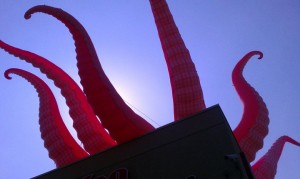 We have an aquatic theme – natural considering our parade entry is built around a giant River Monster!
Just imagine: People with goggles and snorkels 'swimming' alongside the giant tentacles of The Kraken with epic sea monster music blasting!
Our costumes will be:
These are the basic items we will all have…you can add variety from here!

A solid color t-shirt.  (without lettering or designs)  Bright colors will be best!
Beach Shorts:  They could be swim trunks or any kind of shorts that you'd wear to the beach.
Diving Mask or goggles!
A Snorkle! (Wal-Mart has a dive mask/snorkle package for about $5)
Bring a bag of candy to hand out yourself.

Other items:

A bottle of water for yourself!
Any other beach or diving accessories you want to full out your costume.
Schedule:
3:00 pm. Staging at Jeremy Koskie's house: 110 Union St.  Muscatine (Off Washington by Weed Park)   This is where we'll get our costumes all ready, and wait for the call to head to the lineup.
4:00 pm. Head to parade lineup.  Parade starts at 5:00pm and our trip through will be over at close to 6:00.
9:00pm. (approx)  Fireworks at riverfront park.
Note: the parade route is about 1mile long.
If you have any questions about meeting places, times or costumes call:
Jacob Lane:  520-235-5338
We can't wait!