Woo-Hoo! People have been requesting a printing class since we first started DoNight classes. Now we've got one – and its good! John Deason, 'retired' Muscatine art teacher will open his print studio and guide us through creating our own posters, greeting cards, or other artwork.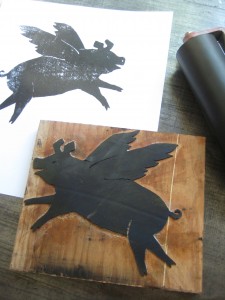 In this class you will learn a block printing method you can easily use on your own with no expensive or special equipment.
In This Class You will:
Cut blocks for printing from matte board, rubber, or other materials.
Set a limited amount of wooden type (see below)
Prepare and Apply ink
Make multiple editions of your design
Type Setting
You will also be able to do a limited amount of type setting – up to about 20 words. (That's just enough for a band name, personal name, greeting card headline, etc.)
Bring your Design
This is a hands-on class: you will come away with printed pieces! To do that though, you MUST come with a design you want to print. Bring a sketch, printout, or example of your design. You can use something you have drawn, found online, or another printed item.
Ideas
Band Posters
Poetry (short!)
Christmas and other Greeting Cards
Art Posters
Again: Bring a sketch, printout, or example of what you want to print. That is the best way to ensure that you have finished prints by the end of this class.
What you need to know:
Saturday, November 27
9:00am – 4:00pm (Includes time to make multiple editions of your design)
John Deason's print studio – Muscatine, Ia (address after registration)
Bring a sack lunch
Wear clothes that can get a little ink on them
Bring your design: Bring a sketch, printout, or example of what you want to print.
Register early – Space is limited and this is a hot topic!
Class fee: $27 – Includes all supplies and materials (an incredible value!)

To register send class fee by PayPal.com to register@donight.org
(include 'Nov 27 printing class' in the payment comment)
Please call if you have questions or for alternate payment arrangements 563 260 5556