NOTE: Drawing Club is on break right now. Last Drawing Club on March 24, 2011.    If you are on the DoNight mailing list we'll let you know when we start up again.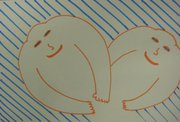 Muscatine's very own Drawing Club meets every week on Thursday evening.  We have a broad theme each week such as 'Monsters' or 'Pirates" to get people started.
There is no lesson or instruction, rather it's an 'open draw' time with fun people.
Its held for people in high school, college, and older.  We usually have a very nice mix of ages.
Bring your own supplies
People frequently bring charcoal, pens, pencils, markers, crayons, pastels, and paper ranges from high-end drawing paper to piles of scrap typing paper – bring what you like to use!
Details
Thursday evenings
Muscatine non-profit center: 129 W 2nd Street, (downtown) Muscatine, Ia
6:00pm – 8:00
If you have any questions contact: Andrew@DoNight.org
Join DoNight's mailing list, and like us on FB to catch the weekly theme and other news for Drawing Club.
See photos from Drawing Club in this DoNight Facebook gallery