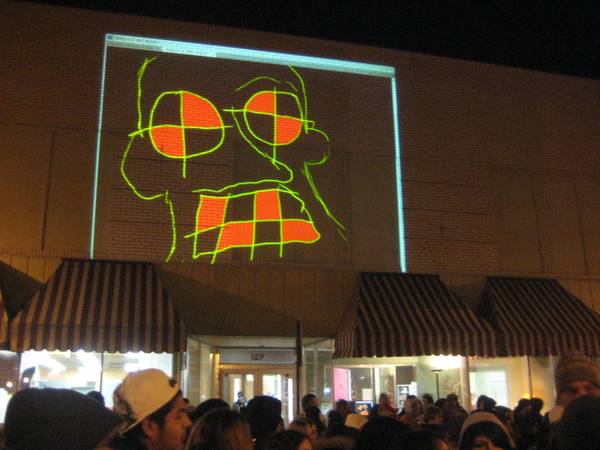 DoNight's Live Painting Projection Exhibit 'Shine' at the Muscatine Holiday Stroll was loads of fun.  Even included a surprise impromptu dance party.  This is a Looooong photo post…enjoy!  Above artwork by Cory Peak.
At the 'Shine' Exhibit 5 artists took turns drawing on Wacom graphics tablets.  Their work was projected live as they drew onto the front of 129 W 2nd Street, downtown Muscatine.
Exhibit was on Dec 3 at the Muscatine Holiday Stroll
oK, on to the show.  
Christine Kuster was up first and she drew a mighty hand of Adam.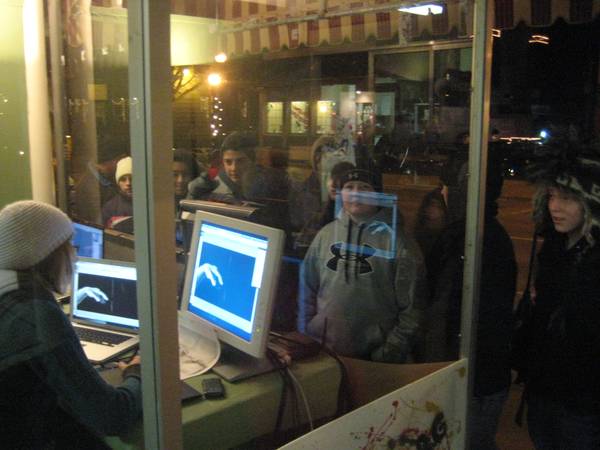 An early crowd gathers.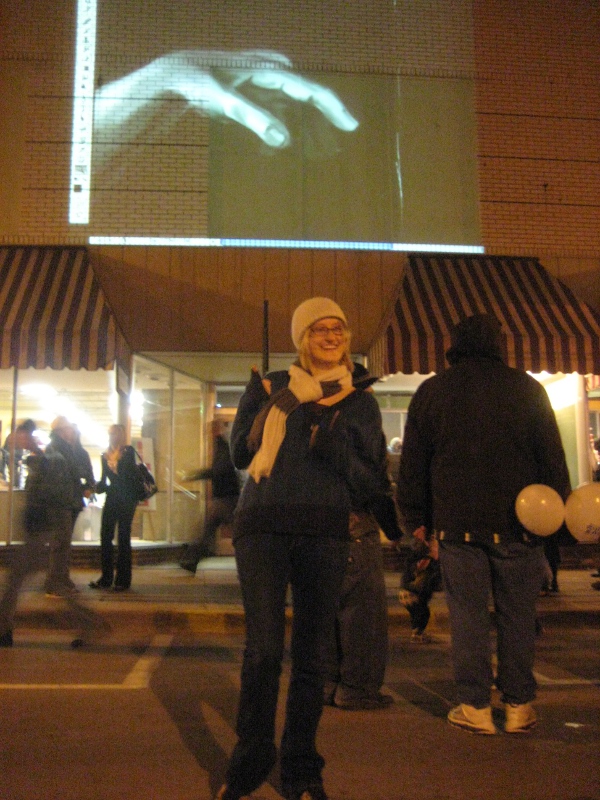 Participating artists:
Christine Kuster
Katie Laschanzky
Jacob Lane
Anna Anderson
Cory Peak
(everyone pictured but Anna – who got away before we got a photo of her with her work. )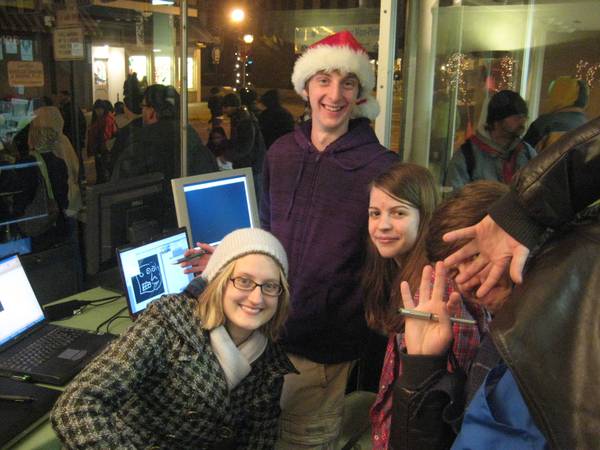 Jacob Lane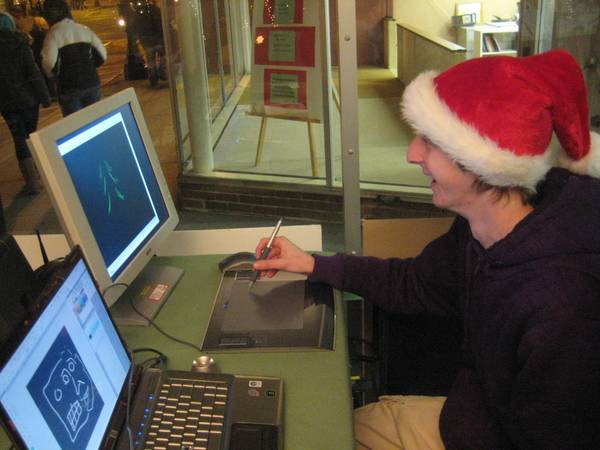 Jacob Lane in full Christmas spirit.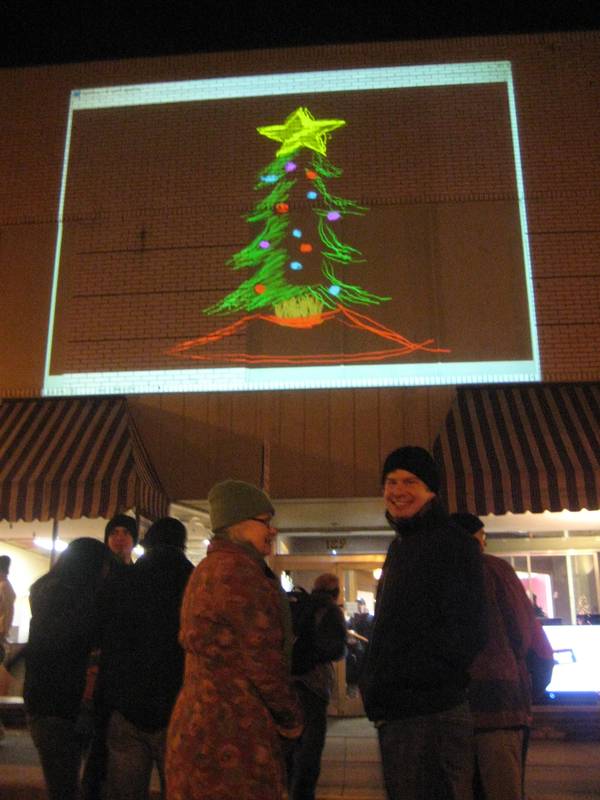 Jacob's Christmas Tree card in progress
Katie Laschanzky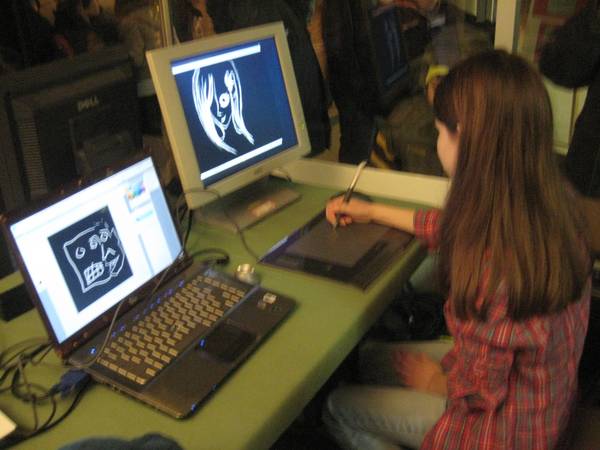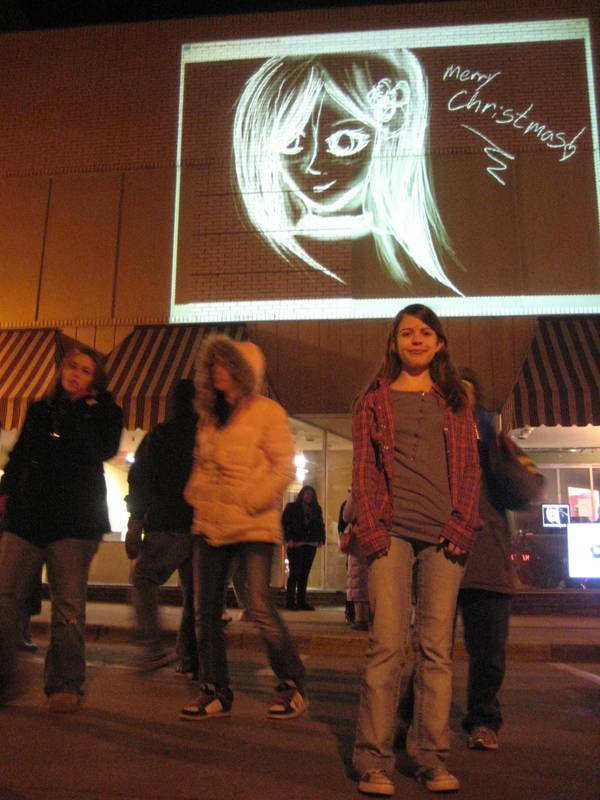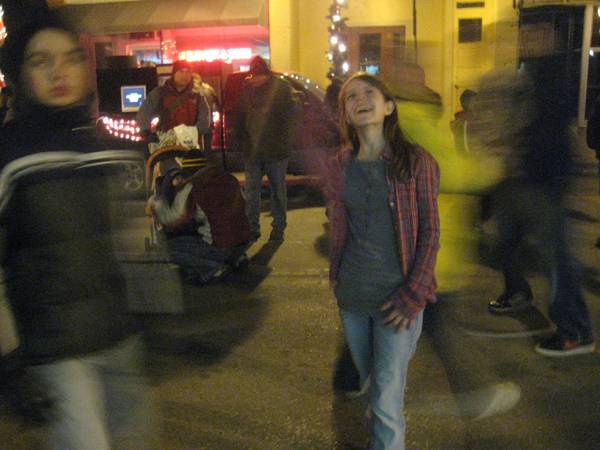 Katie admires her work  – as did everyone else who saw it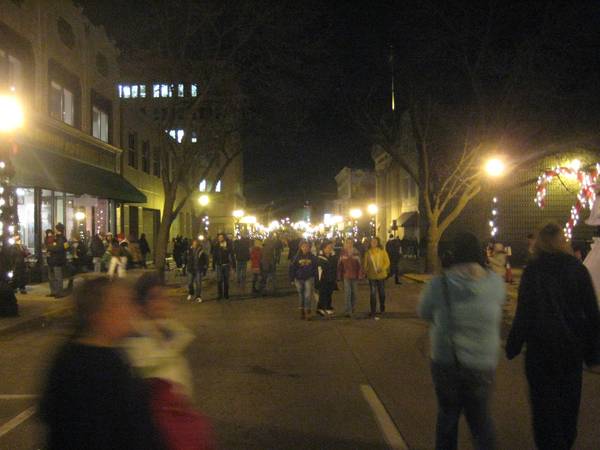 The view down 2nd Street
At some point in the evening the dance group that Flynn sponsors showed up. Flynn put their music on his somewhat overpowered karaoke float and an instant crowd gathered.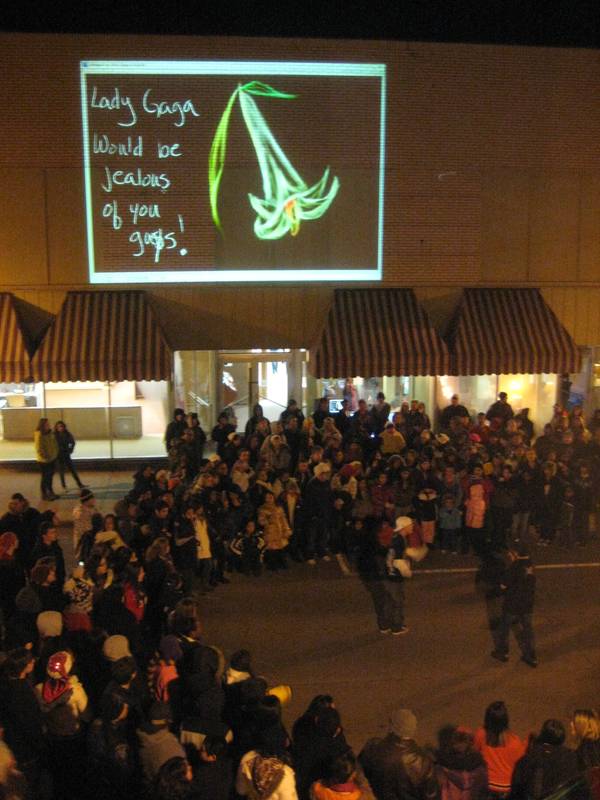 The lily drawing is by Katie. The note might be hers too – not sure.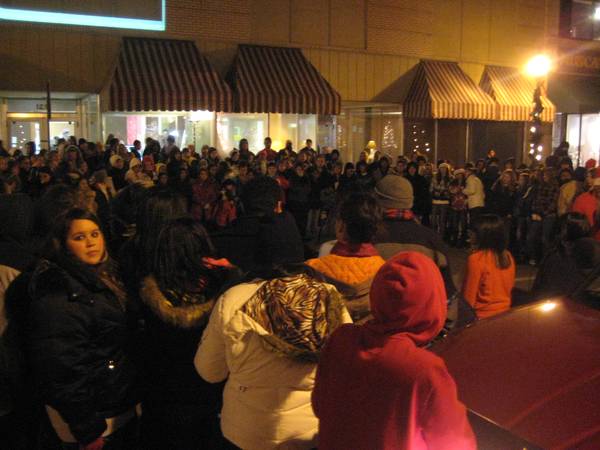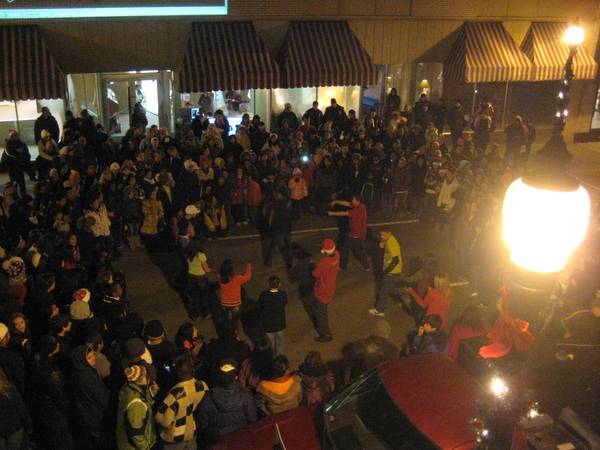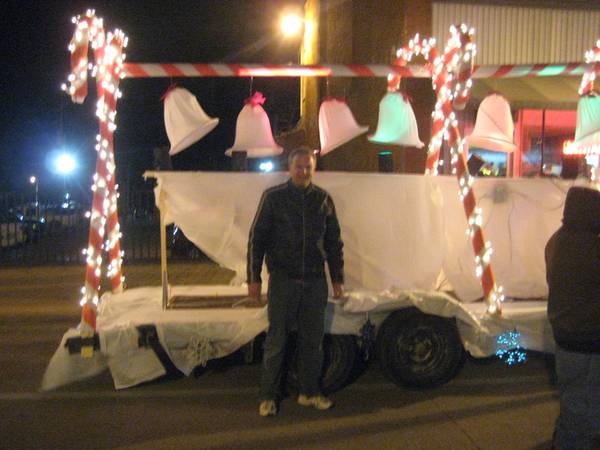 Flynn and the Magic Bell Karaoke float.  Awesome work Flynn.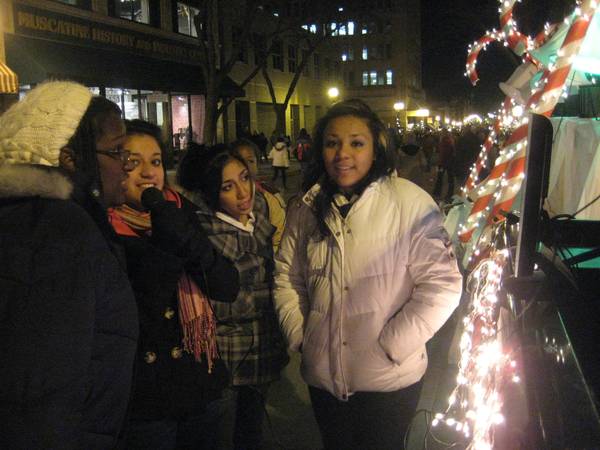 Karaoke in the cold.

Cory Peak
Cory did the awesome drawing at the beginning of this post.  He had the crowd going with this one. He probably did the boombox because of the dance party right in front of the window.  Cory is just good like that.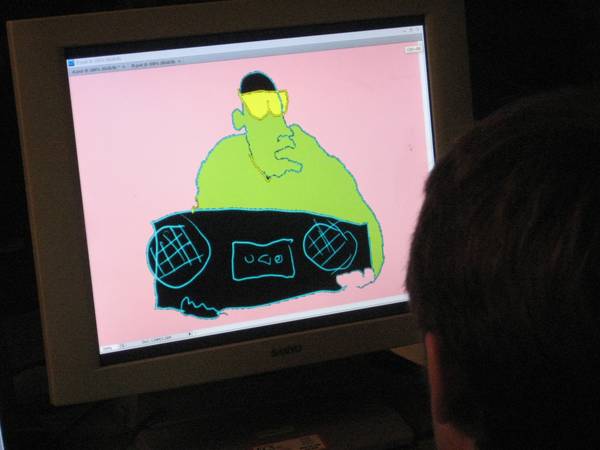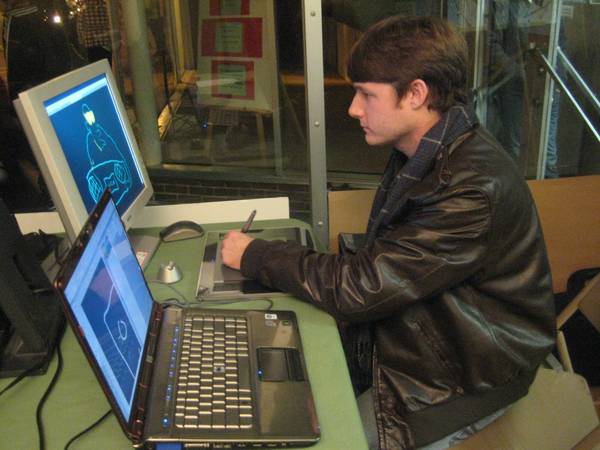 Many Thanks to 'Shine' Sponsors
Musser Public Library
Muscatine Arts Council
KariPearls.com
Special Thanks to
Aaron Auberg
Josh Umlandt
Christine Kuster
Tom Meeker
Mobilizing Muscatine Excellence
And finally, the ECS computer guy who loaned us the adapter we needed off his server rack – Thanks!
Organized by
Andrew Anderson
We started with Cory so we'll end with this one by Cory.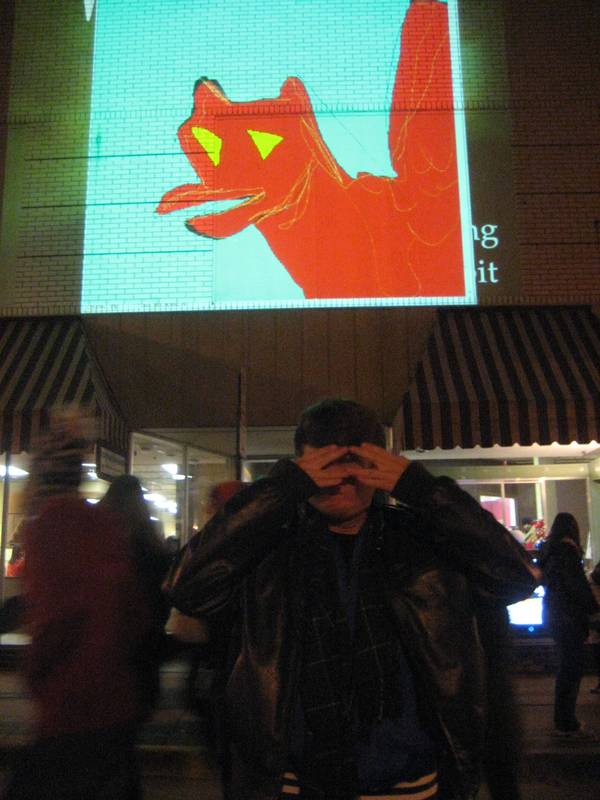 That's it. Thanks!  
If you were at the stroll please leave a comment and tell us  how it was!